Faithfully reproduces 24 bit/192 kHz audio sources! DAC/DDC with USB Audio Class 2.0 support.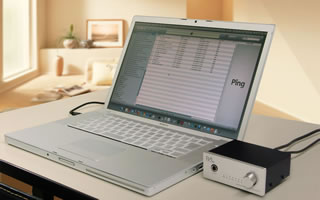 RAL-24192UT1
24 bit/192 kHz supported
Low Jitter
Coaxial/RCA Connections
Digital Audio Transport with USB Audio Class 2 Support
Supports: Windows 7 / Vista / PC, Macintosh OSX (10.6 or later)
RAL-24192UT1 US$299.00

Playing 24 bit/192 kHz is now possible
This USB audio transport converts music data output from a PC's USB port to digital/analog audio signals. The technology developed in the RAL-2496 series has reached a new level. This product supports high-resolution audio files such as 24 bit/192 kHz, 176.4 kHz. The independently-developed firmware draws out every last bit of performance from the controller, and it is possible to reproduce faithfully the quality of HD audio sources.
USB Audio Class 2.0 Support
Conventional USB audio products use the USB Audio Class 1.0 standard that operates in Full Speed (12 Mbps), so the data transmission limit was 24 bit/96 kHz. This product supports the new USB Audio Class 2.0 standard for sending data in Hi-Speed (480 Mbps) mode that utilizes USB 2.0 high-speed transmission. So now it is possible to transmit data-heavy 24 bit/192 kHz sources.
<USB Audio Class Standard Comparison (as of October, 2010)>

USB Standard
USB 2.0
USB1.1
USB Audio Standard
USB Audio Class 2.0
USB Audio Class 1.0
USB Audio Class 1.0
Transmission Mode
Hi-Speed Mode (480 Mbps)
Full Speed Mode (12 Mbps)
USB Audio
Drivers
Windows
Drivers are not included in the OS (this product comes with drivers).
Included standard from Windows 2000 on
Mac OS
Included standard since Mac OS X 10.6 on
Included standard from Mac OS 9 on
Notes
24 bit/96 kHz data transmission limit

Please check the manufacturer's sites for each USB audio device's supported standards and operating systems.
Equipped with digital (coaxial)/analog (RCA) outputs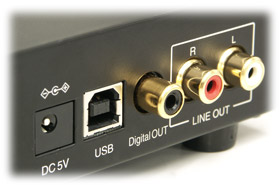 A coaxial digital output is in the back of the unit. Music data from a PC can be input to external audio devices such as D/A converters. Furthermore, the DAC in the unit makes analog audio output (RCA) possible.



Independent Headphone Amp on Board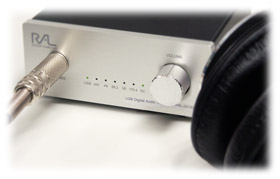 The front of the unit is equipped with a standard headphone jack and volume control for headphones, so it can be used as a stand-alone USB-connected headphone amp that can play HD-quality audio.


Easily connect to a USB 2.0 port, runs with standard drivers from Mac OS 10.6 on
Easily connect to a Windows PC or Mac's USB 2.0 port.
Installs automatically on Mac OS X 10.6 and above. When using Windows, install the drivers from the included CD-ROM first. After the drivers are installed, it will be recognized as a USB audio device.
*USB Audio Class 2.0 drivers must be installed.
(The device will not run with USB Audio Class 1.0 drivers)
A dedicated audio clock and multithreading reduce jitter
In order to reproduce audio data faithfully, the audio data stream must be delivered to the audio device with accurate timing. The product incorporates many jitter-reducing technologies.
Operates with a dedicated audio clock as a standard
Inside this unit are two independent +-25ppm precision crystal oscillator modules (22.579 2MHz, 24.576 MHz). This means the clock isn't created from the packet's data number, and instead, the unit operates in asynchronous mode with the dedicated audio clock as the standard.
Processing time issues are resolved with multithreading
Multithreading and parallel processing make internal processing more efficient. The conversion to an audio stream occurs without lag.
Hi-Speed improves timing precision
Hi-Speed mode sends frames in small intervals that are an eighth (125 μS) of those in Full Speed mode. As a result, Hi-Speed mode reduces timing misses that occur when sending data from a PC, which leads to more accurate timing in the delivery of data to the USB audio device.
A noise-reducing design
In order to eliminate the influence of noise that is introduced through the PC and USB connection or the cable connection between external devices, a common mode filter and electrostatic destruction protection circuit were implemented. Noise from the USB bus power is reduced by the implementation of an independent filter for each circuit block. Even more, an EMI countermeasure prevents internal noise from getting out.
Works with a variety of playback software
This product doesn't require a particular application for playback— it uses software that can play audio from a USB audio device, such as iTunes, Media Player, or foobar2000. Of course, enjoying high quality audio playback from network streaming such as NAXOS is possible as well.
In order to play high-sample-rate audio, you must configure this on the application side in Media Player or iTunes (Quicktime)
Runs on the USB bus' power alone, or it can be switched to an external power source mode
The unit runs on power from the USB port, so an AC adapter is unnecessary. There is also a DC jack on the unit for an external power source. It's possible to connect a power source (φ 4 mm) that can supply 5 V and 500 mA current with the optional AC adaptor (RAL-AC05-03), so self-powered configurations can be enjoyed.

Compact Size
The external dimensions are a compact 100 (W) × 83 (D) × 43 (H) mm (approximate, not including protrusions).