USB to Serial Convertor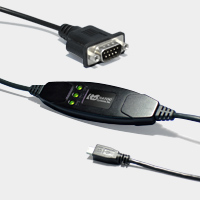 USB60MB
Connect RS232C serial devices such as barcode scanner, magnetic card reader with serial interface via this converter.
- REX-USB60MB is a USB to serial converter.
- Up to 230.4Kbps data transfer rate.
- Micro USB (B type Male) connector.
- Power/Transmit/Receive LED indicators.
- The terminal application "USB60Term" published at Google Play.
- Bus powered. no need external power supply.
System Requiremnets
Host machine
- Android tablet and smart phone with free Micto USB B type port.
It must be USB Host mode are supported.
Operating System
- Android OS 3.2, Android OS 4.0 and higher
Specifications
Hardware specifications
Product Name
USB60MB
Serial Input/Output level
RS-232C level
USB Specification
USB(Universal Serial Bus) Specification Rev. 1.1
Connector
USB
Micro-USB B male
RS-232C
D-Sub9 male (with anchor [#4-40])
Number of I/O ports
1 port
Unit Dimensions
3.35[L] x 1.1[W] x 0.43[H] in (85[L] x 28[W] x 11[H] mm)

Cable Length
Approx. 2.83 ft (85 cm)
Weight
0.194 oz (55 g)
Data transfer mode
Asynchronous (Start stop synchronization)
Data transfer Rate (Baud)
300/600/1,200/2,400/4,800/9,600/19,200/38,400
57,600/115,200/230,400 bps
Transmit Distance
Within 50ft (15 m)
Power Voltage
DC+5V (Powered for USB Bus)
Power Consumption
Average: 36mA(5V) Max.: 60mA(5V)
Serial Parameter
Data bit: 7/8 Start bit:1 Stop bit: 1/2
Parity bit: even/odd/none
RS-232C connector
D-SUB 9PIN RS-232C connector Male
ANSI/EIA/TIA-574
LED Indicators
PWR:Power LED
If the power from USB bus is properly supplied 5V,
this indicator LED will be on.
TXD:Transmit data indicator (Host to Device)
RXD:Receive data indicator (Device to Host)
Operating Environment
Temperature

0 to 50 degrees Celsius
Humidity
10 to 90% (non condensing)
Storage Environment
Temperature
-20 to 65 degrees Celsius
Humidity
10 to 90% (non condensing)
Note:
1. Do not remove while the application is communicating. System will be unstable.
2. Do not operate to suspend. System will be unable to resume properly.
3. This product does not support the serial mouse for connecting to RS-232C port.
Product Overview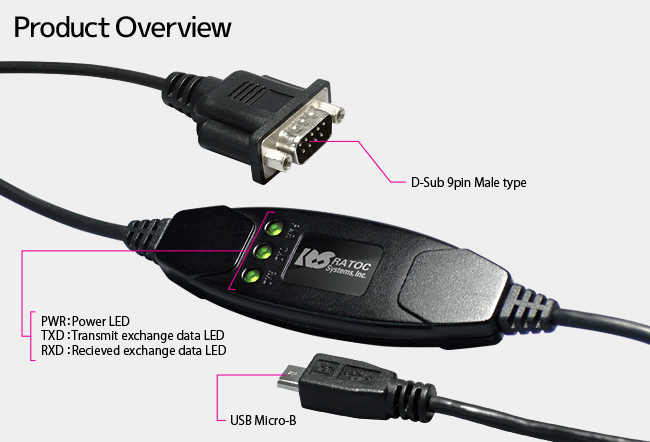 The pin assignment of the connector.
Pin
#
Signal name
Direction DTE - DCE
Meaning
1
DCD

«

Data Carrier Detected
2
RCD

«

Received Data
3
TXD

»

Transmitted Data
4
DTR

«

Data Terminal Ready
5
GND

-

Signal Ground
6
DSR

«

Data Set Ready
7
RTS

»

Request to Send
8
CTS

«

Clear to Send
9
RI

«

Ring Indicator
Service & Support